Saturday Schedule and Information:
10:00am – Float arrives. Mentors only.
1:45-2:15pm – Students may arrive during this time. All participants must be at 1750 Elm Street by 2:30pm.
4:00pm – Parade begins from 1750 Elm
5 O'clock or so – Parade ends at Veteran's Park.
Parade drop-off and start location is at 1750 Elm Street, Manchester, The Brady Sullivan Tower – There is a parking lot on W. North Street (Between Elm Street and River Road – it will be obvious where to drop students)(Parents can not park here. Street parking is plentiful, but not on W. North St. )
PARENTS MUST COORDINATE WITH THEIR STUDENT WHERE TO PICK THEM UP.
The parade is ending at Veteran's Park, across from the Radisson Hotel.
Parents should meet their student at the end of the parade. The float is driving back to the 1750 Elm lot for disassembly. We cannot provide transportation from the end of the parade route. Parking is available at the Lake Ave Lot (across from SNHU/Verizon arena) or at the Federal Courthouse lot, or along Central and Chestnut Streets.
IT WILL BE COLD. IT MAY BE WET. DRESS APPROPRIATELY. DO NOT WEAR SHORTS.
The Need List:
Candy Canes (small, under 4 inches) – a lot. more than 1500.
LED christmas lights of almost any color and kind – MUST be LED.
Signup for Candy Canes: http://powerknights.com/sign-up-sheets/
PRE-PARADE MEETING INFORMATION:
Meetings will be 6:30p to 8:30p at Goffstown High School on Tuesdays and Thursdays.
Map of GHS
Traffic flows by arrows. Park in purple areas, entrance at blue dot.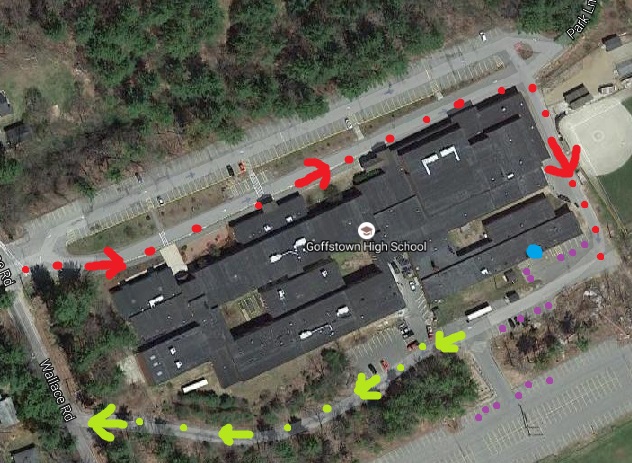 Check out last years float at 8:26 in the video below.